Theater for the New City presented the August Strindberg Rep production of
August Strindberg's "Dance of Death, Parts One and Two"

February 27 to March 12, 2022
First English language production of the two plays together
translated and directed by Robert Greer.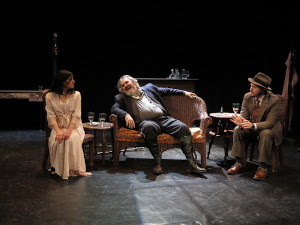 Natalie Menna, Brad Fryman, and Bryan James Hamilton. Photo by Jonathan Slaff.
From February 25 to March 12, 2022, Theater for the New City (TNC) presented the August Strindberg Rep production of August Strindberg's "Dance of Death, Parts One and Two," newly translated and directed by Robert Greer. The two parts of this play, which were written in 1900, were performed together in English for the very first time, translated and directed by Robert Greer.
"Dance of Death" is labeled by some critics, not without justice, as Strindberg's greatest work. In an isolated fort Edgar, a captain of a coastal artillery installation, and Alice, his wife, have lived for 20 years, hating each other with a deadly venom and each wishing the other's death. When Kurt, Edgar's cousin, comes to stay in it, he is caught up in the atmosphere of evil. He falls in love with Alice and becomes her associate in a plot designed to destroy her husband. Following a stroke, Edgar suddenly gains a new vision of life, realizing his own errors and pleading for reconciliation. Thus ends the first part of the drama.
Baily Newman and John Cencio Burgos.
Photo by Jonathan Slaff.
In Part Two, Edgar is revealed to be a villain: clever, devious and cunning. He has lured Kurt into a stock market scam, ruined Kurt's aspirations for election to parliament, snatched Kurt's household furnishings at bankruptcy prices, undermined the military career of Kurt's son, Allen, by getting him transferred to a remote base in the far North, and plotted to marry his own coquettish daughter, Judith, to his commanding officer to curry favor. Nevertheless, the second play ends in the final triumph of the wife. Edgar's health problems, which were established in Part One, are catching up with him. Remorselessly, Alice drives Edgar to his death--although in the very process of doing so, bitter doubt enters her mind. In a diabolical subplot, Judith tortures Allen, Kurt's son, for loving her. She is portrayed as a youthful vampire and there is the sense that this family's cycle of "love-hatred" will go on and on.
The plays' legacy can be seen in a number of contemporary works. In "Play Strindberg," Friedrich Dürrenmatt condensed the two parts into a terse, brutal series of boxing rounds. The claustrophobic atmosphere and treatment of marital dysfunction in Strindberg's masterpiece reverberate through Albee's "Who's Afraid of Virginia Woolf?," Harry Kondoleon's "The Houseguests" and even John Guare's "The House of Blue Leaves."
There had only been two English translations to-date of Part 2: the original by Edwin Björkman in 1912, the other by Harry G. Carlson, Greer's mentor, in 1971. Carlson taught that translations of plays, unlike novels, only last for ten years and must be refreshed. Robert Greer stepped up to provide such a translation for our 21st century American sensibility. To configure the two plays for a one-night presentation, he trimmed out some "fat" in Kurt's part and some unnecessary minor characters: maids and a crazy old lady, whose scenes were so encapsulated that they could be eliminated without affecting continuity. He theorized that extraneous characters were packed into the plays because "in those days, audiences liked large casts complete with servants."
Edgar, the Captain, was played by Brad Fryman. His wife, Alice, was played by Natalie Menna. Kurt, Edgar's cousin, was played by Bryan Hamilton. Judith, the daughter of Edgar and Alice, was played by Bailey Newman. Allen, Kurt's lovesick son, was played by John Cencio Burgos. Set design was by Mark Marcante. Lighting design was by Alexander Bartenieff. Costume design was by Billy Little. Props were by Lytza Colon. Sound design was by Roy T. Chang.
"Among strong performances all around, [Natalie] Menna is terrific as the embittered but not (entirely) cowed Alice, and [John Cencio] Burgos brings sympathetic depth to the put-upon Allen in the production's second half, in which the energy increases alongside the stakes. The set design also creates an effective contrast between the gloomy residence of Edgar and Alice, where we spend our time before the intermission, and Kurt's brighter, more contemporary residence, the location of the latter portion of the production and the target of Edgar's arguably petty jealousy. For a compelling take on a classic work, fans of Strindberg should reserve a space on their dance cards for Dance of Death, Parts I and II." --John R. Ziegler and Leah Richards, Thinking Theater NYC
"Since Strindberg is rarely performed these days, a trip to Theater for the New City is worth a re-acquaintance with this modern classic of intimate psychological probing into the banality of marital strife." -- Beate Hein Bennett, New York Theatre Wire